Thailand and Cambodia 2008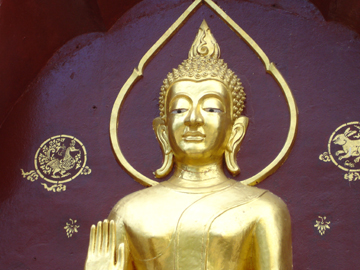 Thursday, March 27 2008. 02:25 PST China Airlines flight 00003 SFO to Taipei. Somewhere over the pacific. I dropped the dog off this afternoon at a new dogsitter- she's cheaper than Courtney and only watches pugs. She has 3 kids, a husband, and 2 pugs named Yoda and Chewie already and has a gorgeous yard in Hayward in which the dogs spend all day, and I believe night as well. He was tired going in- we went to the park in the morning and he ran around like a maniac for 45 minutes then didn't sit or lie down the entire morning kept at my heels while I paced around the house restlessly making sure I had everything packed up right. After dropping him at Sandra's, I finished the packing and tried to decide whether to walk to Bart, wait for a bus, what time to leave, etc etc. Then checking that I had everything, that I watered the plants, that I washed the dishes and threw out anything in the fridge that was likely to be wildly smelly when I got back. I walked to the bank, made sure I had small bills for Cambodia, ate some enchiladas from Picoso, and watched a little tv trying to not be nervous and restless. At 8pm I walked out the door, crossed the street and waited for the bus for about 5 minutes until I got twitchy that I was going to miss the bart if I didn't get the bus soon so I walked to the bart station, half a block into the walk the rotten bus (of course) drove by. I made it to the station just as the train was arriving, I paid for the ticket and ran onto the fremont train as the doors were closing. Phew.
1 hour later I was in SFO, checking into China Airlines for my flight. The woman was extremely pleasant and informed me that the flight wasn't full, so I'd likely have a row to myself. Yeah! Welcome to my first trans-pacific flight AND I get a row all to myself- this is a Boeing 747-200, so it has the 3 seats on either side with 4 in the center aisle. I got an entire center to myself. This is fabulous, since the flight to Taipei is 13 hours long. THe captain let us know it was expected to be a very smooth flight, with about 90 minutes of turbulence in the middle. I promptly lifted all the rests on my row, and spread out as much as possible to claim my entire row and ward off any hopeful crashers. And they left a pillow on every seat, so I sit like a sultan in a mound of purple pillows. I plan on sleeping as soon as possible. They just served dinner- which was an odd asian "salad" of cabbage in a tangy sauce with little shrimps and a tomato, some fresh fruit which was really delicious, a piece of chocolate cake which was really good, and steamed rice with more cabbage salad stuff and sit-fried mystery dark chicken. I ate the rice, bits of the cabbage salad, and the cake. Tea at the end and a glass of screw-top white wine and the movie is just starting, although it's in mandarin so I'm out of luck. I'm really nervous about this tour. Last time I did a tour it was with John and Charlene in Costa Rica and I didn't like it much. Getting bussed around in this air-conditioned minibus and having a totally watered down experience tailored for americans who "think" they're "adventurous." But this trip was wicked cheap, nobody had the time, money or inclination to go with me, so going on the tour seemed like a good idea. It is generally safe for women to travel alone in Thailand, but not knowing the language or being able to read it seemed a little scary, and they say it still isn't a very good idea for women to go it alone in Cambodia. So, tour it was. And the tour was actually far less expensive than I could have done on my own, or with a companion. We'll see. There are 40 people on the tour, the people at the agency were very reluctant to commit to any demographic saying it purely depends on the trip- some are younger, some are older. I will find out soon enough. At least they don't have many of those horrible "cultural" experiences they forced on me in CR- the cheesy trip to the school while we got to watch the kids dance- then eat a home-cooked meal at a costa rican family home. That kind of junk. And there seems to be a lot of "on your own" time, which is good.
Well. 1 hour down, 12 to go and I'm ready to turn off the laptop, resume my book and try and get at least a few hours of sleep before the sun comes up and I'm out of luck for sleep. So far I have a very favorable impression of China Airlines, and my first trans-pacific flight is leaving me with an entire center row to myself. Splendid.
CI0003 SFO to Taipei 13:27 pm 3.28.08 Somewhere over Japan at 40,000 feet. I have to say this is a great first flight for my inaugural trans-pacific trip: I stretched out on my 4 seats in the middle row, bundled up my 4 pillows and 4 blankets and tossed and turned and basically napped enough so that I actually don't feel like I just want to die. The flight is actually 14 hours, 5 minutes. I got up somewhere around 10am PST and went to the bathroom when we all had to sit up and belt up for some very minor turbulence to find my face looked pretty horrific: big zit next to the nose (the cabin was kept somewhere like 90 degrees for the night part of the flight) and puffy, swollen and really tired facies. I washed off all the makeup and that felt good. Brushed teeth. De-pussed. Starting to feel human again. Back to seat, read a while and finally got up about an hour ago to read. I went to a couple of bookstores to pick up some used junk that I could read and just leave at the various hotels. I stumbled on another history-educated author with an interest in mystery and it is turning out to be one of the best finds ever! Really wily characters, a plot that's super thick I can barely follow and keeps you interested. I'm loving it. almost finished with it. Altogether this wasn't bad: i don't feel like i want to die and I've now been in the air for 13 hours and traveling for 17. I'm not sure how long the flight from Taipei to Chiang Mai is, probably another few hours, but I'm a bit nervous to find my way to the gate since I can't read Chinese characters!? I'll find out. Overall, I'm thrilled with China Airlines and happy I didn't have to spit up the 2800$ for business class since I got the whole row to sleep in anyways. The food was good and service was great. I'll keep you posted. I imagine I've got a layover for a while in Taipei, hopefully I can find a place to plug in.
FOUR hours after a 2 hour layover in Taipei I got into Chiang Mai in Thailand. I was thinking it was going to be a quick, 2 hour flight from Taipei but I was very upset to find out it was FOUR more hours. This 24 hours of travel to get to Asia is not adding to asia's overall appeal. How do people do this for one week? that's just madness.
1pm, Thai Time: we were on the bus. It's a big tour bus, but at least it's air conditioned and the age demographic of this trip is young! There are some 50 something couples, but no geriatrics and probably half the trip is my age! Nobody else is traveling alone, so I'm odd man out, but oh well. I will make friends I'm sure. We got on the bus, waited another 40 minutes for everybody to get through customs and we were off to the hotel for a quick 10 minute drive. The hotel is the Amora Chaing Mai- for Thai standards it's really nice, at least according to our tour guide who is really a sweet lady and very passionate about loving her country. She dropped us in the lobby, her accent very very thick and hard to understand letting us know that the rest of the day is on our own to rest. Tomorrow we have a full day in Chiang Mai (her hometown- her full name I can't remember but her nickname she said call her "The Lovely Nan Nan." So tomorrow we see two very important temples here after breakfast, then have lunch together and after the afternoon tour there is a welcome dinner with traditional Thai dress and dancing. Then Sunday nights she says they close the streets to traffic and have a market that she wants us to check out.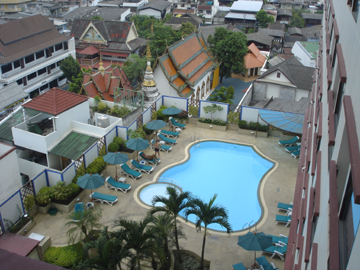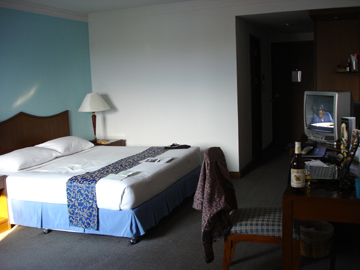 The Amora: the pool view and my room.
I got checked into my room, which is very basic, by european or american standards (the bed is hard as bedrock). I wasn't feeling too exhausted after a shower, so I decided to go out and explore then come back and try and crash after some Chiang Mai exploration. It's a small little town, definitely in the third world, but with these amazing architectural gems studded all over the place. And the flowers are stunning- bromeliads growing in the tropical foliage..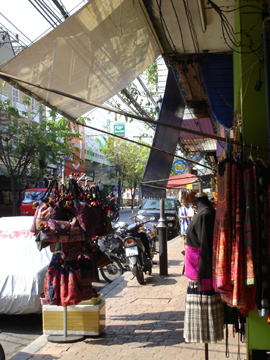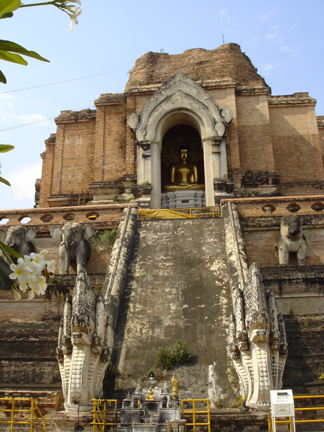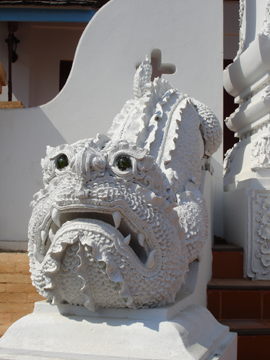 L-R: Chiang Mai street view, an ancient temple with ruins known as Wat Phra Sing which dates back to the 1345, and this very cool temple with a fish god out front. Love the fish face naga. The gargoyles on the outsides of temples are good luck dragons and symbols, warding off evil spirits much like gargoyles. I wandered the streets, looking around and taking pictures of sculptures just sitting ont he sides of buildings, of temples, of monks who are walking everywhere..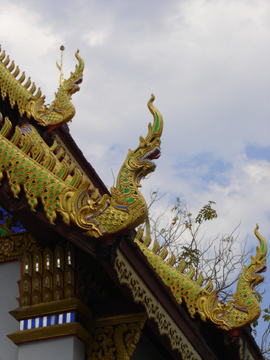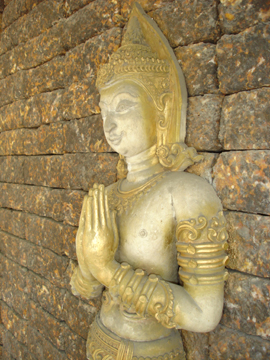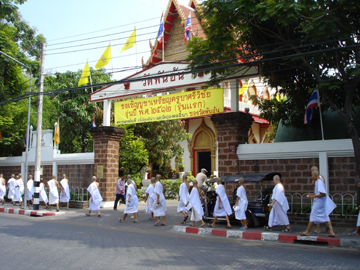 Then I bought some beer since it was 95 degrees and I needed to break a 1,000 THB bill so I could pay a simple street vendor 20 bhat for pad thai on the street corner. Seriously- 20 bhat is about 70 cents. (31-35 bhat make one dollar). I didn't want to eat at the hotel or at an overpriced tourist restaurant but it's intimidating when you don't even READ the language, let alone try and speak it.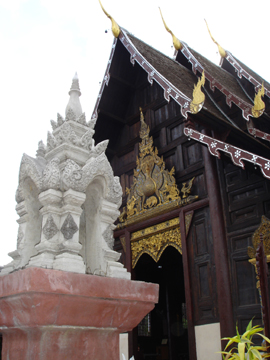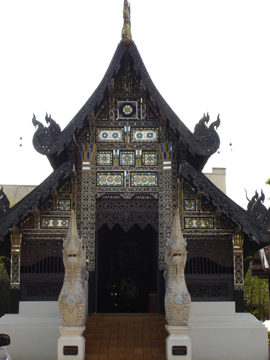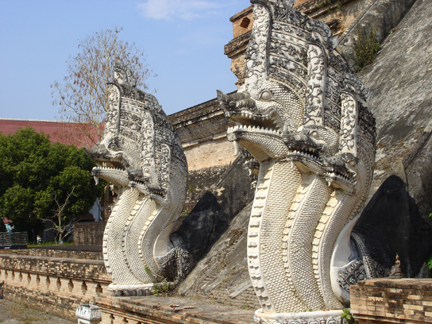 The photo of the Wat on the far left with the white pagoda in front shows the golden cho fas or finials which are traditional Thai design. The many dragons are known as naga and are protective against evil spirits.
Walking around the town I was hot, but it was manageable hot. Once I actually got back to the hotel and sat down after this amazingly amazing pad thai with fried tofu and egg and tons of red pepper and sliced jalapeno on top I was suddenly sweating like a total disgusting pig. I mean, it was rolling down my back in little rivulets of salty grossness. My shirt, as soon as I sat down, was suddenly just drenched and sticking to me. Gross. I checked in with the tour guide who was sitting it out a few minutes at a table set up in the hotel lobby and asked her to tell me how to say "thank you" and "hello" in Thai. Shockingly, I didn't get a book and learn ANY phrases, although once I got here I was mortified not to even speak a couple of very basic words. So she was thrilled to give me pointers:
"Hello" when speaking to a woman is always: "sawaddee ka," for men "sawaddee krub." "Thank you" for women is "khob khun ka" and you always make a little bow and put your hands together like the Buddha after. For men it's "khob khun krub." I'll get it. She said my accent was spot-on. I'm actually pretty good with languages and hearing the accent, and reproducing it. Apparently this is literally related to either the presence or absence of a certain language center in the brain which is why some people (and GOD I know them- I was mortified by Lori's Finnish and she had been there a year- and a friend's attempts at Spanish, Lara's attempts at french). While my vocabulary might suck, I can reproduce the sounds of the language and not everybody has that ability. Although Thai is not an easy language. I still can't pick out the accent when I meet somebody from Thailand..
Tomorrow: a big day in Chiang Mai. For now, I'm going to watch this strange movie with Salma Hayek, John Travolta and Laura Dern set in the 1920's and try and go to bed after 24 hours of traveling. Amusingly, I was completely RED when I sat down after my little town exploration I had to take a picture of my red, flushed face.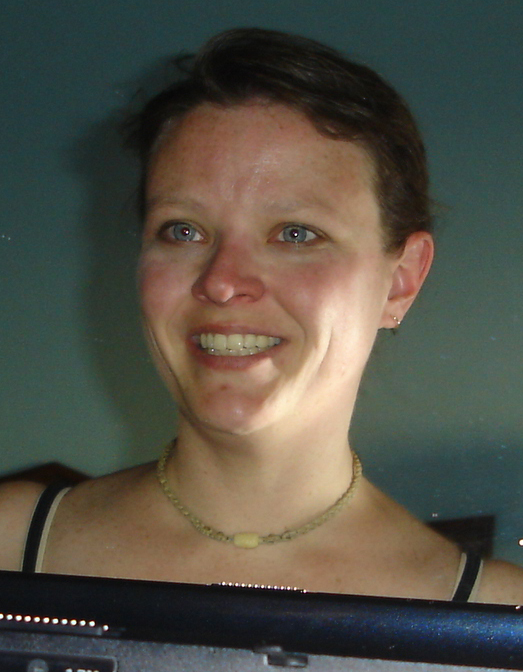 ha ha.. and I love that I can make myself look thinner with dreamweaver... ha ha. And always glamorous sweating like a pig after travel for 24 hours straight without dignified sleep and no makeup. What a peach.
Sunday, March 30, 2008. 04:18am Thai Time. 14:18pm PST 3/29/08. Amora Room 704. So I walked all around, came back, made this page then watched the end of that bad movie and tried not to fall asleep with the one beer I bought and failed. Like a rock I slumbered. About 1am I woke up, feeling awake as day. Here I am, unable to go back to sleep so instead I'm organizing my things, planning out what to wear tomorrow and wishing I could just sleep a couple hours more until breakfast starts at 6:30am. I'm sure I'll be the first one down there at 6:30am. I'm not sure if we're bussing around tomorrow on the big red and purple wagon, but I'll find out. I'm also not sure if the ruins and Wat I went to yesterday are going to be repeats tomorrow, but I'm guessing the one with the huge ruins will be. It was a cool site.
So, I'll tell you all a little about Thailand in the interim: Thailand is a Constitutional Monarchy which unlike most of its neighboring countries in southeast asia never fell to a european colonial authority for rule. It is currently run by a monarch whose picture is everywhere revered and celebrated, just walking though Chiang Mai. The country has a long history of tourism and its 63 million inhabitants generally welcome the influence tourism has had on income and jobs in the country. Still a very traditional society, there is a social hierarchy topped by the monarch and status is generally dictated by money and family connections. The traditional greeting, known as the wai- where the hands are brought together under the chin accompanied by a head-bow is initiated by the more inferior of the greeters and in cases of major class difference, one party may bow so low as to approach on their knees. Thais are overwhelmingly Buddhists and the majority of hate country considers themselves Buddhist. They do not raise their voices, do n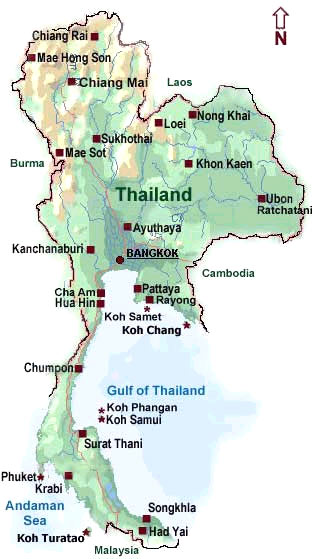 ot fight or show strong emotion openly and PDA is very discouraged. Women are of less social status than men, and are still not allowed to be monks, cannot touch monks, cannot enter many sacred temple sites. I must cover as much skin as possible to show respect for the temples and holy sites, never wearing bear arms or legs well below the knee. Shoes are always removed before entering dwellings, temples and often shops- as I saw piles of flip-flops outside doors in the shops in Chiang Mai as I was wandering around. Rice is still a way of life and main source of income and agriculture for the country and the rice itself can have spiritual significance. Interestingly, it it rude to sit so that your toes are pointed at anyone. Unfortunately I am going to miss by a couple days Thai New Year, known as Songkran April 12-14th (I leave Bangkok on the 9 th for Cambodia). A large Buddha image was bathed at a temple in Bangkok as part of the celebration and it evolved into this water-throwing event where people in the streets and everywhere are tossing buckets of water at eachother both to celebrate this ceremonial washing, as well as celebrate the start of the rice-planting season. It is said to be wild and boisterous with the water soaking everybody- with candle-light processions and ceremonies at night. I wish I would be there to see this! This is the hot summer season, and once you get past May when the wet season starts temperatures already soaring into the 100s are accompanied by prohibitively-opressive heat. Definitely the tourist low season. December-Jan is the best time to come, as it's dry and the temperatures are the lowest of the year, in the high 70s-to upper 80s.
Chiang Mai was built mainly under Burmese rule from 1280-1800s and it is known as the "flower of the north" for its lush flowers and as the "city of many wats" which are said to typify Lana style, most of ornately carved wood. It was built to replace Chiang Rai as the capital of Thailand an I have got to get to its famous Night Market, only a few blocks from the hotel to sample some of the local faire and try not to buy textiles.