Palm Springs and Catalina Island October 2003
I drove down for the third year in a row, to the California Academy of Physician Assistants' Annual Conference in Palm Springs. From San Francisco it's an 8 or 9 hour drive through the very hot very borring central valley of the state. You're in a canyon the whole way down, so it's really hot and dry and blinding sunshine. Even in October, I like to drive it at night to avoid the heat. This time I drove with Charmey to Bakersfield where I dropped him off at the "Pet Resort" for what I hoped would be a fun home away from home for a week. It's a lot cheaper, at 12$ a day to board him there than to pay $35 a day in San Francisco.
I timed my drive to be able to get into LAX on time to pick up mom and pop who were flying in to meet me from Rochester. Ever since I first went to PS with Rob, I kept thinking how much mom would LOVE it there. By this year, I wasn't going to go without her. The conference is always at the luxurious Wyndham Resort right in PS, and it's really amazing. Beautiful, beatuiful. A huge pool with lounge chairs and cabanas all over the deck, a kiddie pool, jacuzzi, two patio restaurants, it's great. I just could picture mom lounging all day in the hot desert sun after trips to the workout center in the morning...
I picked up the parentals with fairly good timing in LAX. I think I only had to wait about an hour or 45 minutes for their flight to get in. Not bad for planning... It was great to see them again, Dad and I were excited to get in some Scuba diving later in the Catalina leg of the trip, it's really world-class diving. Mom drove us out of smogcity to highway 10 headded East. We noticed black billowing smoke and fire burning in the hills in Rancho Cucamonga on our way out, that was wierd. Sure enough, all over the news was a series of fires raging in the LA area. We saw only one of 4 in the area at Rancho.
Once in PS, we registered at the hotel, and put our stuff away in the room. I was so excited to have them there with me, they were so excited to be there. We explored the pool and the hotel, and I wandered down to the conference to register and check in. I did manage to attend a few lectures, and even introduce the speakers for two of them myself, and for the first time in 3 years, I didn't proctor the suture workshops just so I could finally go to the Student Challenge Bowl. That was cool. They do it poolside, in the sun, with baithing suits and kegs and popcorn, like medical jeopardy. Vicky Chan, the director of the Touro program dressed up in the before party "fashion show" as one of the Charlie's Angels. I got some incriminating photos of her in tight leather pants and showed them to my students in class the following week... ha ha ha
Mom and dad watched with me from the deck, and dad and I guessed at questions and got most of them right. I had a good time and boy, it was nice to finally get to see that stupid bowl after 3 years!! ha ha. I was sitting there thinking about getting a Touro team together for next year... I think I can guess who I'd pick from the class... i think, anyways. maybe next year. We went swimming later and then went to the evening lecture on Erectile Dysfunction. Dad wasn't feeling so well, so he ended up not going and mom and I went together instead. While I'm not sure we learned much, we ate a really delicious fillet mignon meal with a delicious creme fraiche dessert. Delicious. We ate three square meals a day, CAPA is great, they let you register guests for meals and entrance into the exibit hall, so we checked out the exibits, and attended the Eli-Lilly welcome reception which is usually pretty good. We sipped wine and they had the best thing for dinner this year- they had this "Martini Potato Bar". It was so cool! You got a martini glass with a scoop of mashed potato in there, and there were all these toppings you could put in your glass for the potato. I had no idea what was in the glass, but somebody in line said "Oh! It's mashed potato!" They were so cool. I had two. They had the usual mini cheeseburgers, the taco stop, and desserts. It was nice. We ran into Vicky Chan, who I introduced to mom and dad, and she actually said I was very good and the students really liked me. I was impressed. She's a very difficult person. Military personality.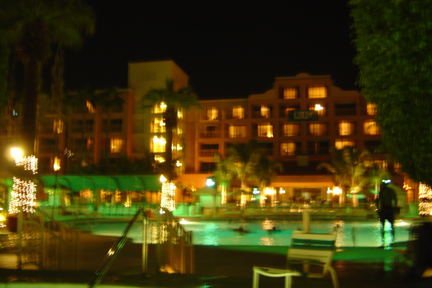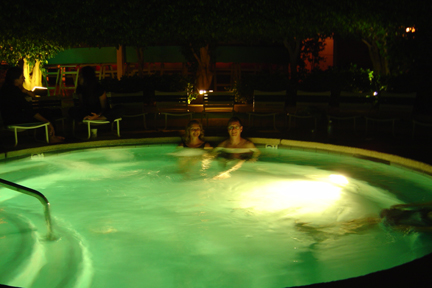 I blew off most of the conference this time, to do "cool stuff" like ride dirtbikes with dad in the desert. So Dad and I drove out on the desert highway back toward rte10 and found this backwater little place that rents the bikes. It wasn't cheap, I think 40 bucks for each of us, but we did it, got our helmets on and biked around in the sand dunes for an hour. They would have let us just go all day if we wanted to, but I was pretty well done after an hour or so. It was really fun.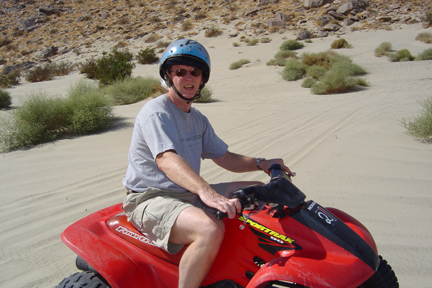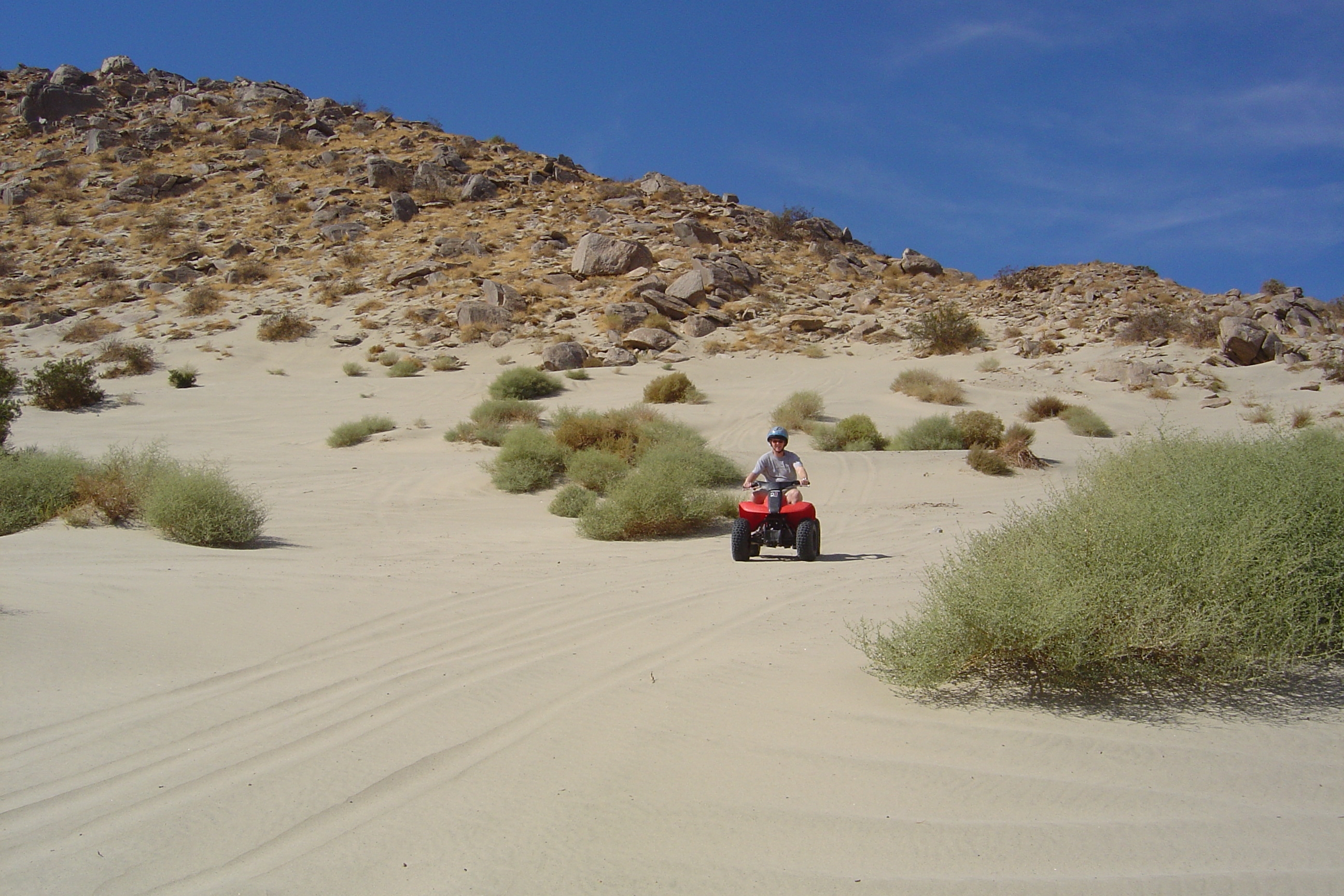 We were actually pretty tired after riding for an hour, you're really gripping with your arms, and we weren't wearing enough sunscreen, so I was getting more and more nervous about sunburn. Especially with dad's skin... he's a melanoma waiting to happen... that aside, i managed to pick up a stunned kid who hit his face on the handlebars and cut his lip, bleeding like a stuck piglet all over the place and trying to fight off tears. Poor kid. I walked him back to his father, who patted him on the back and said something to the effect of "suck it up." I fel bad for the kid. I told them I was medical personnel and there did not seem to be any obvious need for stitches. Dad was unimpressed and continued to sit there smoking while the poor kid sat down next to his sister quietly. We had to make a pit stop at the local 7-11 as I was PMSing pretty bad and there was a need for female supplies and a bottle of motrin. I love doing that with my father... there's still something just "wrong" with that. Like watching kotex commercials with him when I was a kid... embarassing no matter how old i am :)
The weather was unseasonably hot even for PS at the conference, temperatures were hovering near 100 degrees daily. Ouch. We sat next to the pool and drank alcoholic beverages (well, mom and I anyways) and then decided to catch the tram that goes up the side of the canyon mountain up to a sub-alpine arid forest. Sounded good to me. There was enough time to pack that in, so away we went.
The tram is literally on the side of the canyon wall and you go up, gondola-syle in this rotating car with 360 degree glass windows and it keeps rotating so you really get a whole view of the valley. I thought it was odd-looking, especially from up high. There is just endless brown sandy nothing, and then right in the middle of this desert there are shiny objects and big, lush areas of greenery and grass. I thought, looking down on it, "no wonder why there are droughts and water shortages in California. All of our water goes to palm springs golf courses." The golf courses were way out of whack with the rest of the canyon. I think we might be able to solve the water crisis by making arid golf courses. But then again, I don't golf.