Sunday Amanda had plans for us- a trip on the ferry over to an island, with a little lunch and wine tasting.
---
I slept like the dead last night, I was totally wiped out. I woke up at 6am, pretty much ready to go. They didn't have any coffee in the house, so I was forced to start my morning uncaffinated. Just wrong.
The Prince and I took a little ramble around the grounds in the morning. They have this tennis-court like space in the middle of the court yard, it's a concrete rectangle, with this lattice-like plastic covering on it that is marked like a singles tennis court. There is, however, no net, and no walls of any kind. Instead, there is a basketball net mounted to one of the posts. The complex is okay- newer, with nice landscaping, thick green lawn (what a nice change from cali!), and it seems quiet. I dowloaded photoshop onto amanda's computer and had just gotten dressed when they got up.
Amanda had us slated to catch the ferry from seattle to Bainbridge Island, a short half an hour ride across puget sound. We caught the 9am ferry, leaving the car in seattle since parking is free on sundays, and it's 12$ each way for your car, and an additional $5.20 per passenger, so we opted to leave the car in seattle and save the cash. My feet are still in the throes of plantar fascitis, especially the right on on the lateral side- it's a pain so sharp I think I'm stepping on a knife blade that just goes right to the bone. Holy ouch. But, there is really only one very small little strip on the island, and the winery Amanda wanted to go to (she's very excited and fixated on getting to try this strawberry wine they make) is only a short distance from the ferry dock.
We were all hungry, so we walked to the very small main "strip" on the island and found a cute mexican restaurant called "Isla Bonita" where the wait staff had harsh hispanic accents and they only called us "amigos." The food was totally amazing and I serenaded Amanda and Stew with my rousing rendition of Madonna's 'La Isla Bonita' which they had forgotton! As if! I had chicken tortilla soup, in a "cup" which was bigger than all of my bowls. I ordered a burrito with that, but it was about 8 pounds and a moutain of food, so I ate literally a forkful and couldn't take any more. Stew had a mole sauce chicken tortilla, and Amanda had a chimichanga, after an ordering fiasco like that in "When Harry Met Sally." Ha, ha.
Then we went to the winery- it was right up the road.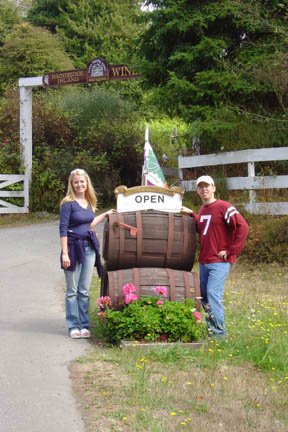 they had cute little patio chairs outside set up, and offered to let us sit outside with a newly-purchased bottle from the tasing room and mingle with the grapes and the dog running around.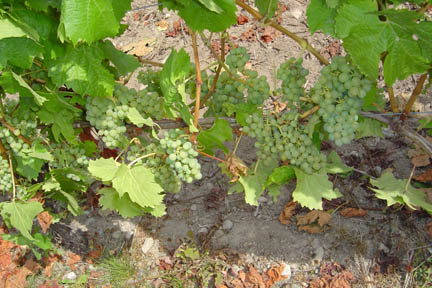 I picked a red and a green grape off the vines and tasted them.
The red was very sweet and the green was super tart!
Then, back across the ferry to the piers, and back to the
dog park in Redmond again.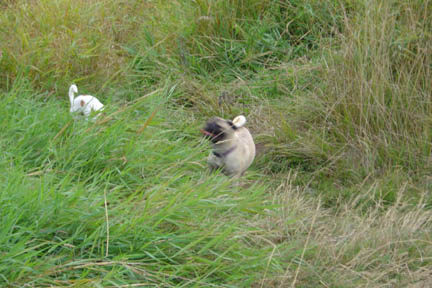 charm going nuts with Emma in the grass.