Manchester Beach Easter Weekend, April 9-13, 2004. 17:52. Site T-8. I decided it was high time for a vacation. I took the pooches to the beach, to Manchester Beach, specifically, where the KOA is extremely nice, but extremely expensive (I paid almost 35 bucks a night for one tent site!). You can hear the ocean roaring in the distance as you sleep. The camp is HUGE, located on 50 something acres adjacent to state protected land on either side. Tent sites are HUGE, and despite the price, not too many people are here this weekend.
I came home after work, loaded up the car and the pooches, and we were off by 2pm. I figured we'd be there by 6. The trip up to the coast SHOULD, in ideal traffiic conditions, be very fast, like maybe 2.5 hours, but for whatever reason, people in California do not know how to MERGE into traffic on freeways so anytime there is a city with exits, there is a massive traffic jam as everybody on the freeway and trying to merge onto the freeway slam on the brakes and since it's pretty much all suburban sprawl for 60 miles north of SF, I crawled along in a parking lot until Petaluma. Greuling. I HATE driving north on 101. There should really be three lanes. It's ridiculous.
That aside, when you reach Cloverdale, there is a turnoff to highway 128 which starts toward and into the coastal mountain range, across which you need to go to get to the coast. This is a two lane highway which is mostly flat or mild to moderate turns, but can be pretty twisty in the foothills. I learned that my little one gets carsick with the twisting and turning, since she barfed in the car 3 times. Disgusting. Once you get to Boonsville (I'm not kidding, population 206) you turn onto highway 253 which is this tiny little windy mountain mass that looks like the most direct route to Manchester on my map. It's 30 miles of switchbacks and hairpin turns and lanes that really are only for one car, and it feels like it will NEVER END. Once you get closer to the coast, the densely creeping live oaks give way to some redwood trees for a more majestic feel. I have no idea how people manage to live up there in that seclusion, but they do.
The highway suddenly dead ends into Mancester with this 1/4 mile of tightly lined Cypress Trees fencing in the very creepy Evergreen Cemetery. The Evergreen is something out of a classic horror novel- the fog is always rolling in, misting the turn of the century toombstones, which are cracked and tilting, and those trees are seriously creepy. I wanted to take a picture of it this time, but when I came before leaving Manchester, there was somebody in there! I was shocked as it's always totally deserted when I have driven past it. Next time, I guess.
We (Yah, let me rephrase, "I" set up camp while the dogs ran around) after driving 4.5 hours. We're in the corner of the campground, so it's nice and quiet. We had neighbors last night (4 kids who loved my dogs) but left this morning. We set up camp, took a walk around the large campground and let the charmer get off-leash for a while, running around like a beast when he's unrestrained. Ginger even tried to play with him a few times, but he gets so excited, and he's so used to being physical, especially with BIG dogs (since he thinks he's huge) she gets irritated quickly.
The weather in the daytime is blissfully cool- about 60 degrees. At night it's in the 30's-40's, so kind of chilly. I made her a custom fleece before we left, so she was all ready for the weather. Mornings are clouded by dense fog all the way up the coast to Mendocino.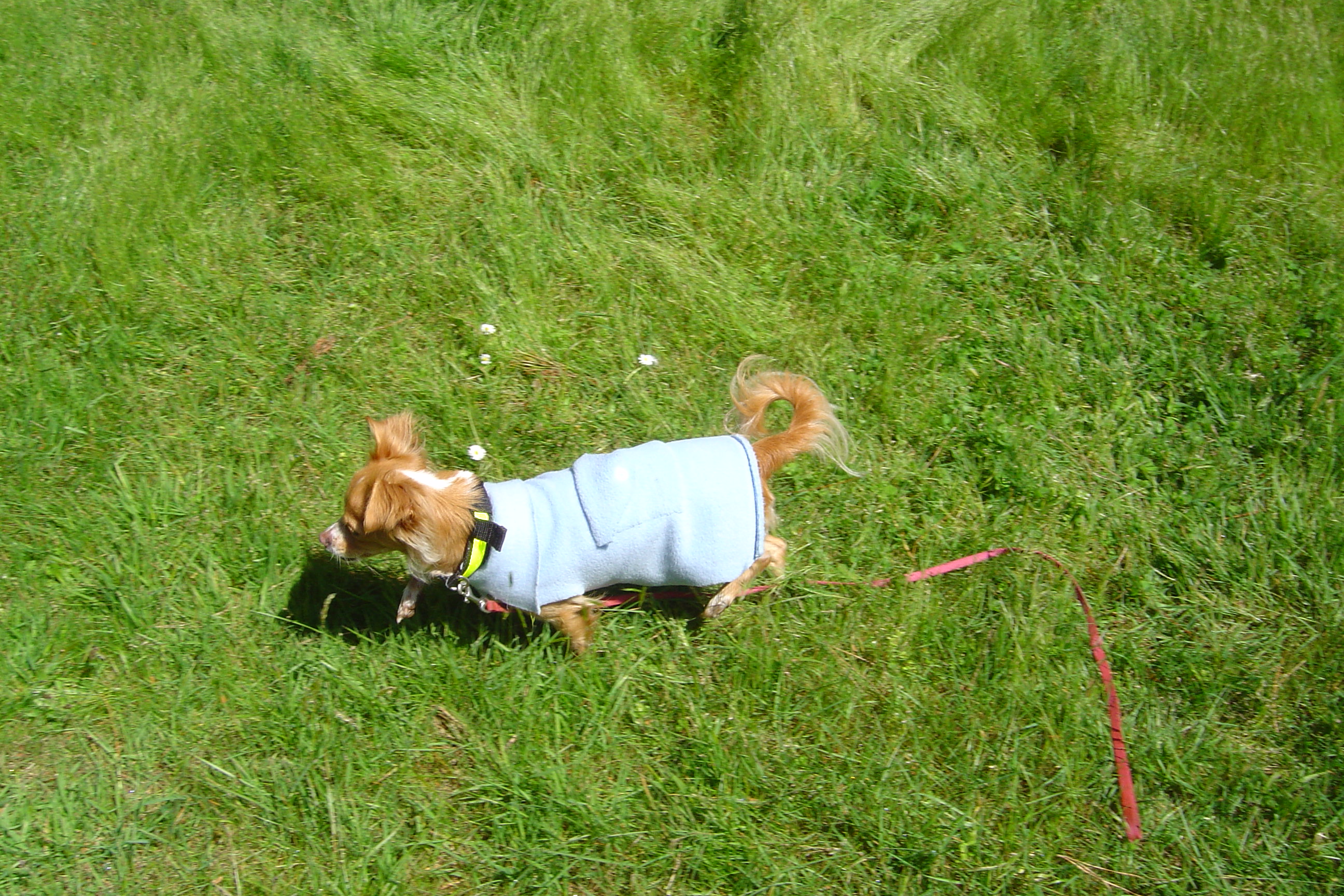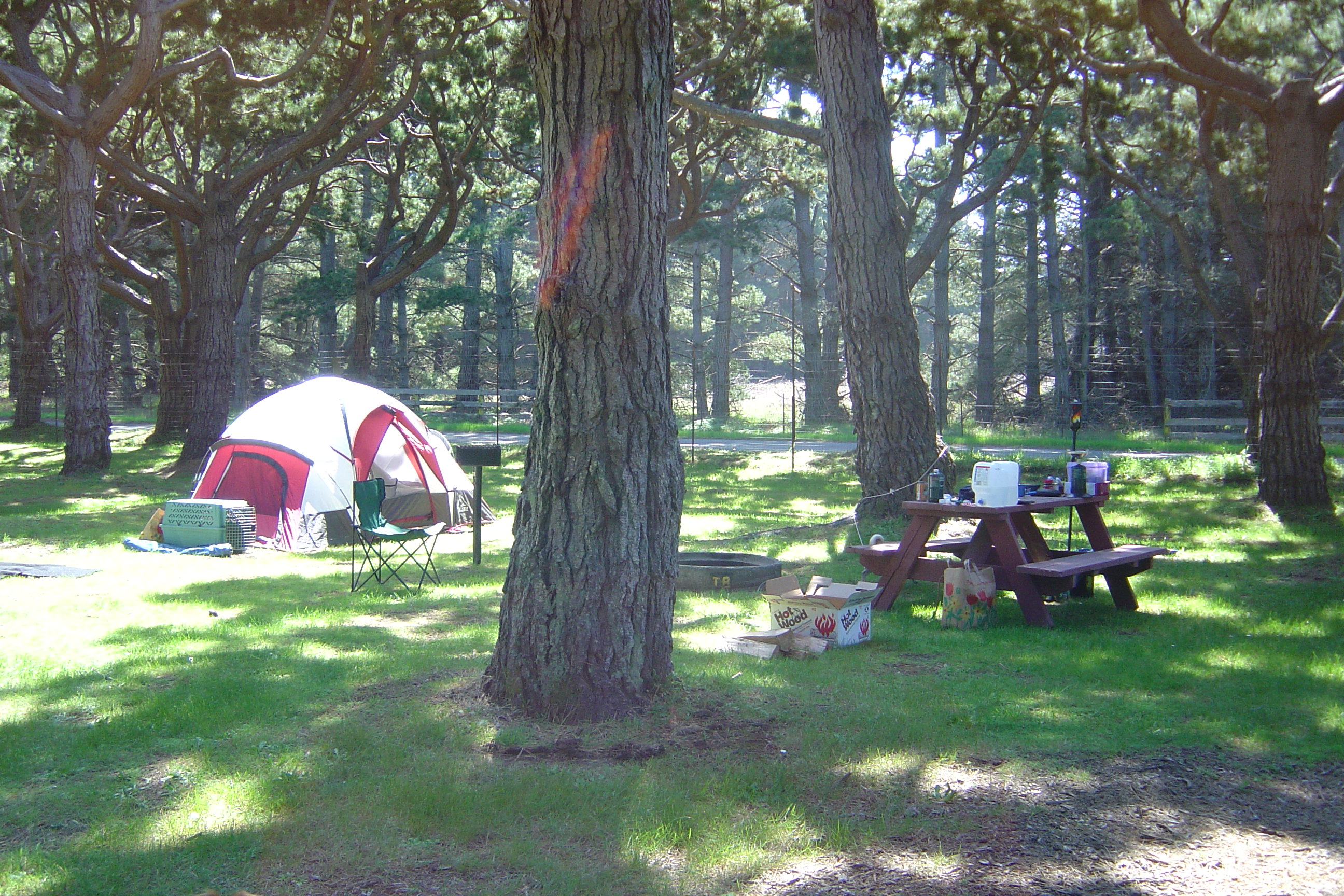 So we ate dry dogfood for dinner (I had canned chef boyardee as usual) and Charmey was in rare form with the gas output overnight... as he is with "different foods." It was painful. They were both so overstimulated, they were up and barking at everything that moved in the night (and I now have no wach! So I had no idea what time it was all night) keeping me pretty much awake all night with a few intervals of sleep.
Life really is different for different people, according to their surroundings. I met a woman next to me, when my dogs wanderd over to their campsite which offered roast marshmellows and other things not at mine, who had 4 kids, most of whom seemed to be from different fathers (she looked like she was latin american, with a white mother, an irish looking, freckled redheadded 12 year old, and 3 other kids who were all hers and looked nothing alike). The kids loved the dogs, and ran them around, feeding them marshmellows and acting like kids. They were nice. She is my age, and I was suprised. She said she has some fiance who won't let them get a dog (i told her HE obviously needed to GO!) and said she could never go camping by herself. It made me think about how i could have been pregnant at an early age (albit not as early as her) with muliple kids, and wondered why she does't use birth control. Life is so different. They were from Chico, which is a Buffalo version of Dunkirk or something.
Good thing I just have dogs. The animals needed to be tied up, so I restrained them with 20 feet long ties of rope each, and they can wander, but not too far away. Ginger is really making progress, let the kids pet her and handle her, Charm of course, was wild and running around with the son, Kaleb, like a maniac. We went to sleep well after them at night, I made a fire and tried to use the computer for an hour or so before it crapped out, and in the middle of the night I let him off his leash, and of course, he ran right over and INTO their tent while they were sleeping. They were'nt mad, they laughed and laughed and he came out all happy. Go figure!
In the morning on Saturday, we woke up dreadfully early (Giner always wakes me up at 5:45am even when she sleeps in the kitchen) and were out driving around my 8am. We drove the hour up to Mendocino and Fort Bragg, where we walked down the main street and looked at all the businesses. Then I took them to Mendocino, which has this large open space on the peninsula (Mendocino is this victorian town with quasi-colonial architecture on a small peninsula started by a whole lot of artists and hippies who had a lot of money and were sick of big-city living in San Frnacisco). Consequently, there are TONS of art shops and boutiques which I could never afford, just right out of the fog belt on the coast. it's sunny and lovely. There are a million bed and breakfasts, hoitey-toitey hotels and shops from Gualala to Fort Bragg. I could actually afford out here to buy a house, which would be really nice, but it's pretty remote from airports and other really big civilized life, since the coastal mountain ranges separate the cenral valley from the coast.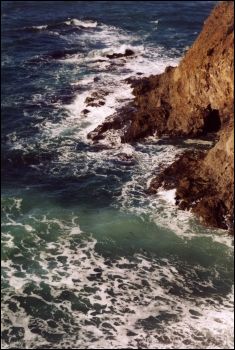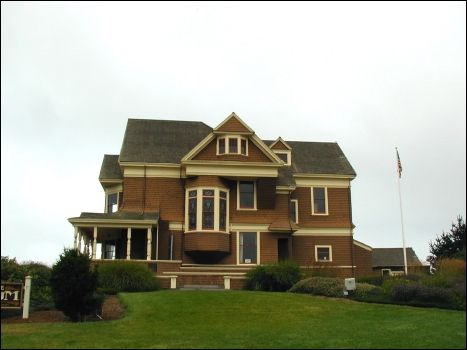 After the walk around the mendocino area, (Charmey with diarrhea from dried kibble) we dove back to the site. I parked them, took a shower, washed the vinyl car seat covering Ginger threw up all over when we made the mountain pass over to the coast, and then showered. I ate myslef some canned lunch, and then drove to the KOA main lobby where they had agreeably plugged my laptop into an electrical outlet to charge, and then drove to the beach trail right next to the KOA. Ginger wanted to eat all the bird and fish guts and debris on the beach, so I leashed her, but Charm ran around like a maniac, as always. Then we came back here and played in the very back of the campground, which is closed, and they ran around off-leash.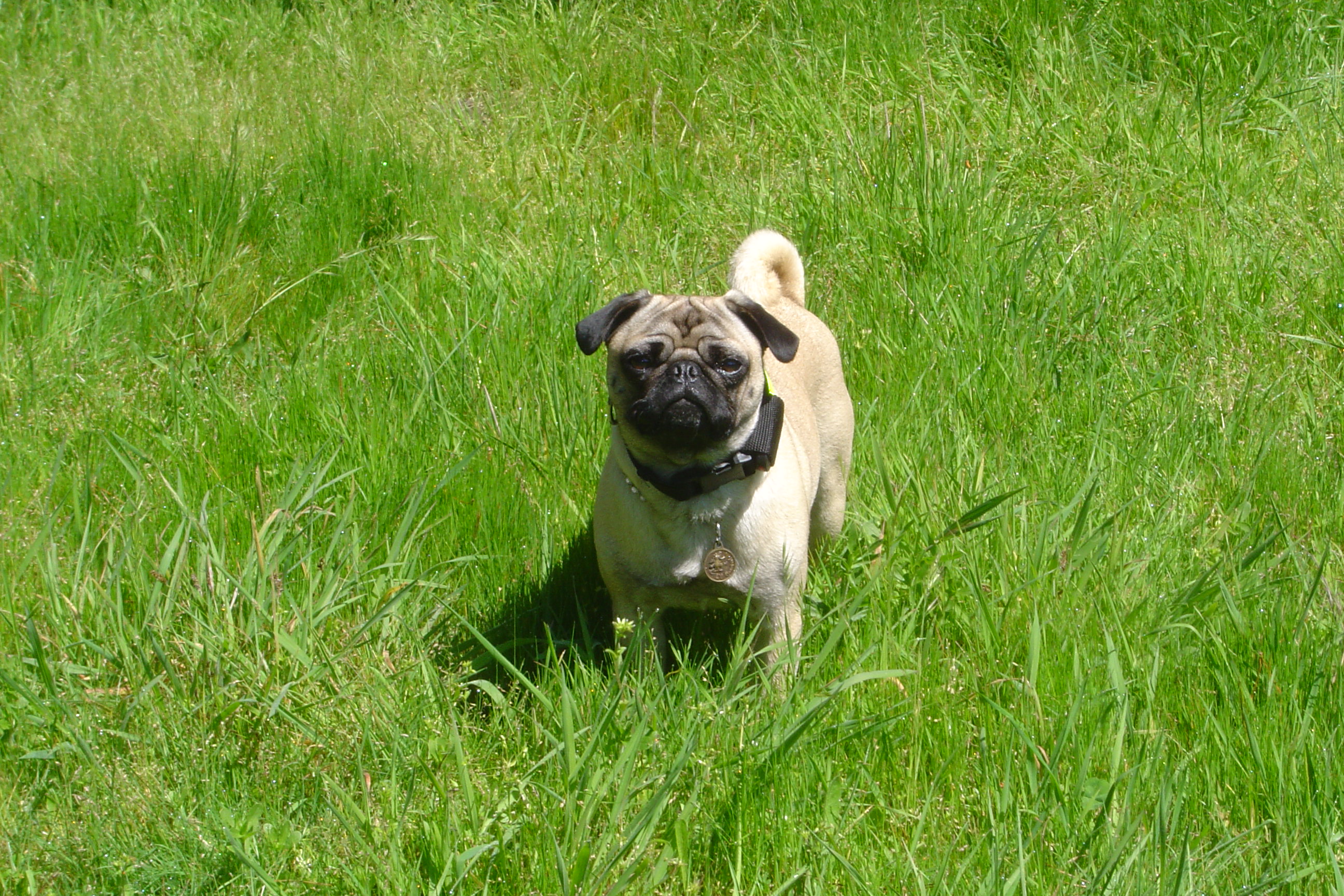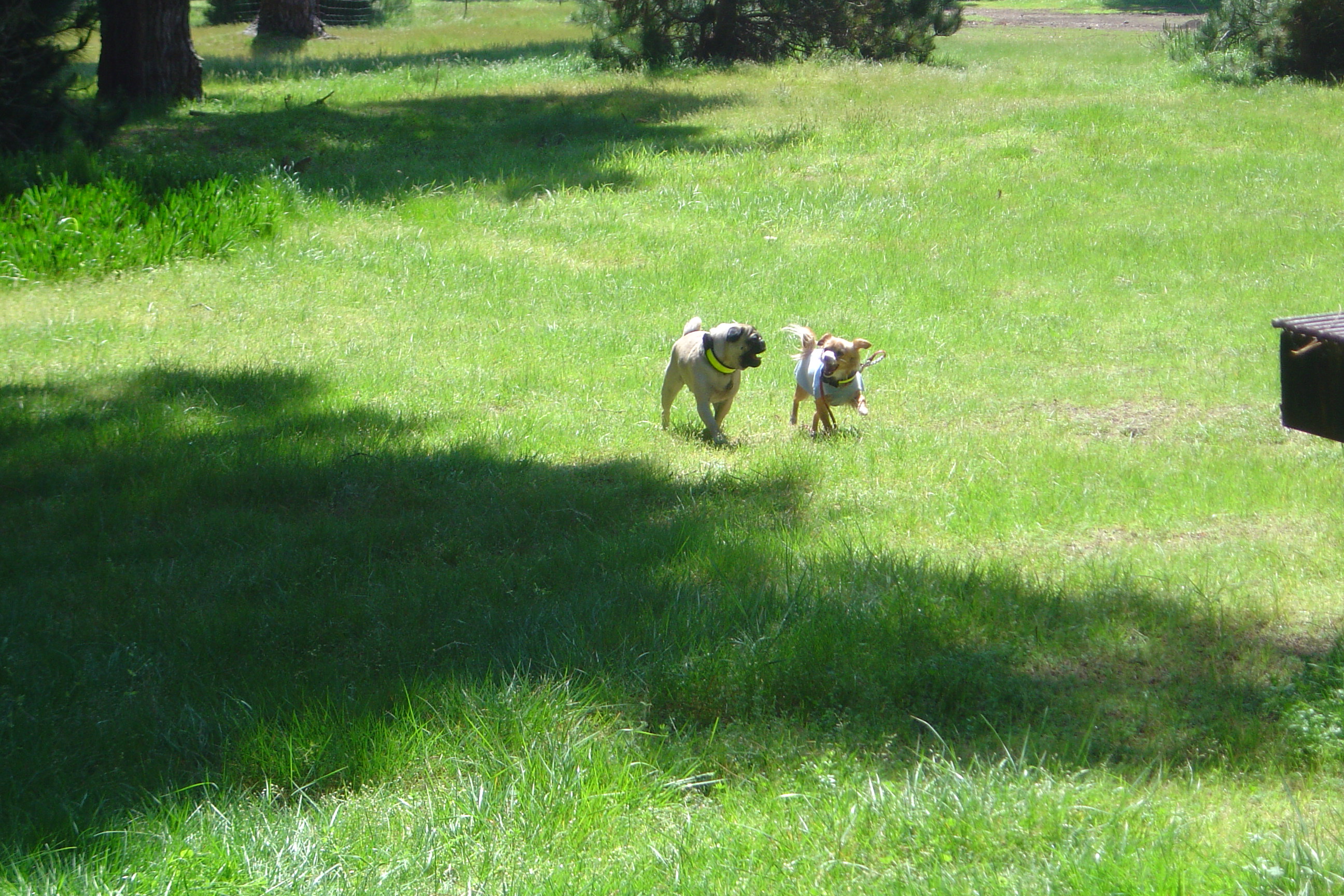 For dinner, I made this Mexican chicken dish, but I have a ton leftover so I hope it makes it to tomorrow... i can't eat it all.
The coast is really beautiful. I got some pictures off a website (I didn't take these of Mendocino) it's really very charming and it's got to be the most B&B's per capita in the United States of America on the coast here. They're every 10 feet, all in huge gorgeous victorian houses boasting ocean views, hot tubs and fine dining.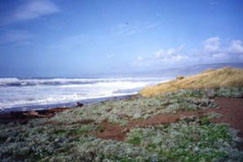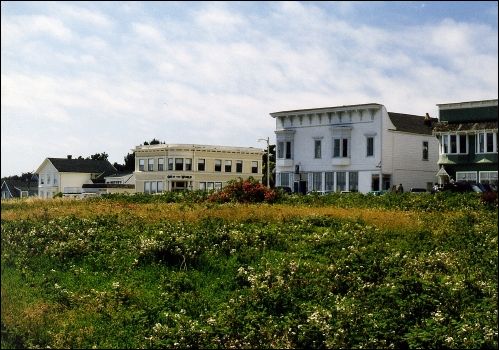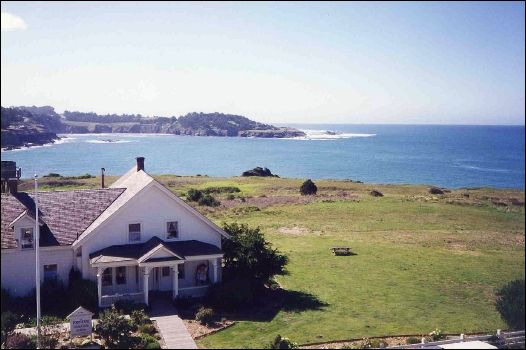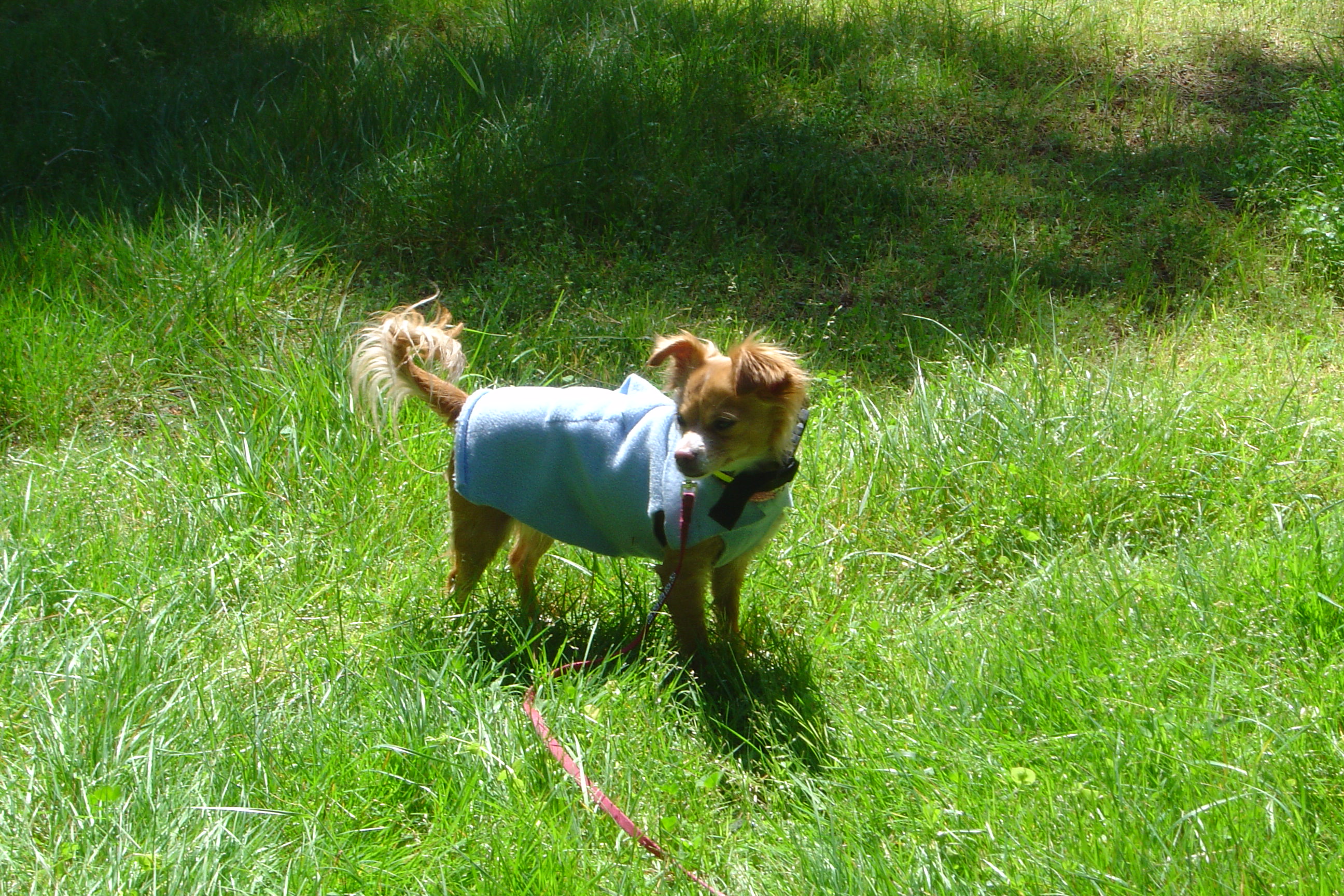 Back to reality. Work on Tuesday.