I slept like the dead last night, it was great. I woke up feeling relatively unmotivated in the morning, sleep seemed like a better idea. I got up around 11, though, and drove through the park one more time, stopping at the Manzanita complex for a breakfast sandwich at the little cafe in the store there. I bought a book about Lassen geology and the volcanic activity, and made a mental note to come back when I needed a shower...
Then I drove south through the park to the Sulphur Works geothermal area. It's right off the road, and basically a tiny little walk around some mud pits and a few hotsprings. You can smell the sulphur as you get there, i love that smell personally.. I did a fast ramble around the boardwalks, taking a few pictures you see above... (this is my crappy quality digital camera which is the Charmey Cam webcam...) I have SLR pictures, of course, which I might scan in later...
Farther south I dove all the way through Chester and around the southern end of the park to the Drakesbad resort area to find the Devil's Kitchen trailhead. It's in a lovely valley- Drakesbad Guest Ranch, that is, with a horse corral (guests can ride these through the trails, a coveted idea when I was in there) and pool. There's a little stream running aorund you most of the trail, which takes you through a large, gentle meadow sprinkled with California Pines. I saw a red-tailed hawk fly into its nest overhead, it was totally awesome, I stood there looking at it for five minutes totally stunned, and paused for 10 minutes waiting for a monarch butterfly to cooperate for the camera and open its wings while it paused for a drink on the trail. There were a million little butterfiles swarming all over- these virbarnt powder blue ones I've never seen before were especially lovely. A little white one followed me near the stream for 50 feet or so, probably smelling the sweet sunscreen I had on.
The trail to Devil's Kitchen is moderate as a hike, about 2.5 miles into dense forest up and down hill after hill. I was expecting cold temperatures since the elevation here is about 5500 feet, but the heat soared above 90 to my great disappointment. There was reprieve in the shade, though, as a cool alpine breeze was abundant. I sucked down my camelbak in no time, reminding myself that I'm in very bad shape to be climbing through the wilderness at altitude in this heat... huffing and puffing, I'm sure I scared all wild animals off in a 3 mile radius with all the heavy breathing :)
Anyhow, before long I cought a whiff of the familiar sulphur odor, and over one last crest in the trail I was looking down on Devil's Kitchen. The familiar white washed soil dipped and rose and there were numbers of steamy columns floating up out of the earth. There was a telltale thumping noise I remember from yellowstone while one of the fumaroles belched out steam in a persistent chest-rattling "bump bump bump" like those pimped-out cars with the bass cranked drving by at 3am. My lungs rattled in my chest with the dull reverbarating noise.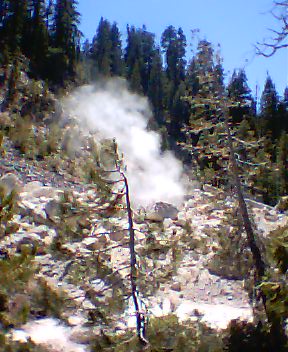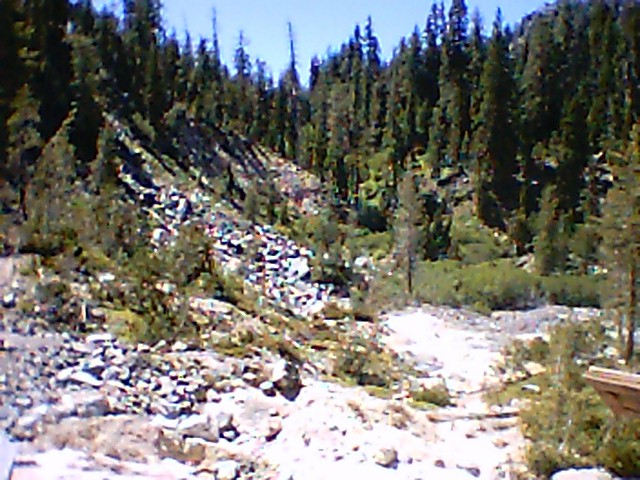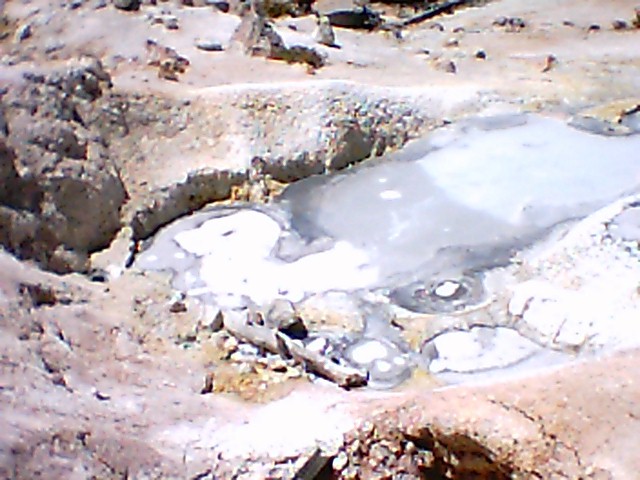 The hike is really worth it, although I may risk sounding like a backpacking, granola-crunching snob here, I really think these are nothing to the vast numbers of geothermic phenomena at Yellowstone. Yellowstone will always be my very favorite american park of all time... *sigh*
anyhow... it's worth the hike, and it was relatively nice as there weren't too many people doing it with me- once I got into the trail a ways, there were onely maybe 10 other people I saw the whole 5 miles.
Had I been in better shape, I would have gone on to the terminal geyser, but instead I heeded the screams of my plantar fascitits and took the short trek the opposite direction to boiling lake. It's about an extra mile, over a beautiful alpine stream and up up up a distance to a large lake of boiling mud. It was pretty cool. I think the springs here are not as hot as the ones in Yellowtone, as you don't see as much color. These are white and orange, the cooler temperatures as far as hotsprings go, you miss the vibrant blue and emerald green of the ones in yellowstone. Cool none-the-less.
Around the lake, and then back to the car- back through that beautiful meadow near Drakesbad again- lassen peak in the far distance...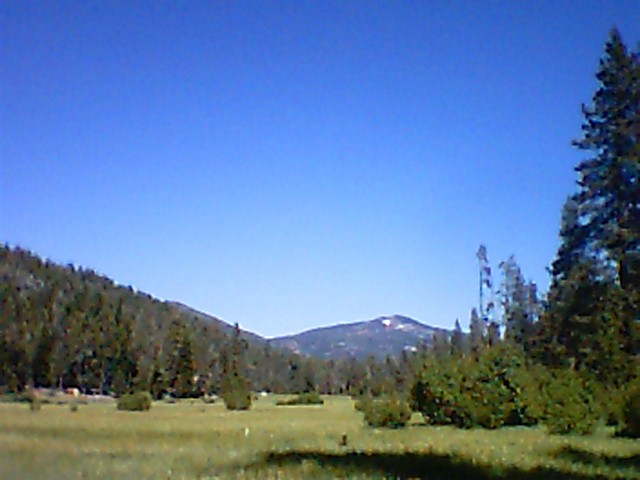 next page