Southern Utah- April 1-8, 2007
David, Shelby and Charm A.K.A. "ninja dog" hit the road in search of red rocks and sunshine, and perhaps a few bruises and scraped up knees.
Sunday April 1, 2007: We set out at 9am after I took the dog for a long run on the campus for a lengthy and arduous drive to Las Vegas. We spent Saturday organizing the things and packing David's car with stuff. We had to travel with the canine companion, which was a problem in itself. We were just going to have to see how it would work out. By the time we actually did reach Vegas, I was ready to commit caninicide for the whining and yelping. We were going in search of the elusive Jonna Collins- in her natural (or becoming so) habitat to evaluate how she is acclimating to almost-married life in the boiling cauldron of Las Vegas Suburbia. They have a beautiful home- especially the back yard with grass underfoot and Daniel's fabulous roses climbing all over the yard. We drank beers under the pergola in the evening weather and waited for the salmon and steak to finish grilling. God, that potato salad was the best I've ever had... Anyhow- Jonna decided that it might be fun to take us climbing in the real, hazardous world of real cliffs and mountains the following day. I quelled my nausea and decided to pretend to be an adult and just go with it. She took me some months ago to a climbing gym in Berkeley, and I had a great time. Jonna is a 10 year climber, so once i relaxed and trusted that she wasn't going to drop me, you just trust your feet and do it.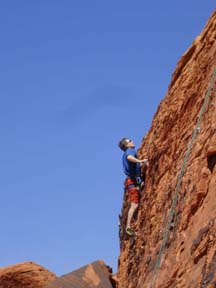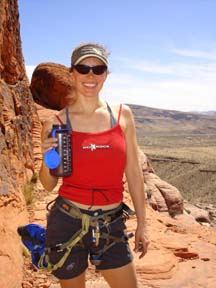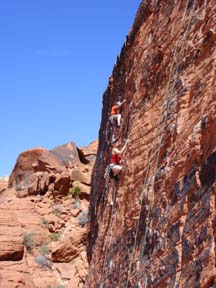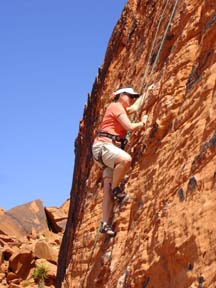 Monday, APril 2, 2007: Jonna drove us out to Red Rocks State Park in her monstermobile and parked on the curb then we hiked into a very popular climbing spot for beginners known as the "Panty Wall." The Panty Wall is full of cleverly named (what do they call them? runs? climbs? routes?) climbing routes like "Panty Raid" "Thong" "Buttfloss" and "Sacred Undergarment Squeeze." She coaxed me up "Panty Liner" and "Cover my Buttress" so that I really felt like a rock star. Well, a rock-climbing star, that is. The heat was oppressive in the sun while the actual temperature was lovely and we all got a little sunburned while we climbed until maximal exhaustion (3 climbs for me, thank you very much). We hiked out of the climbing area over the slickrock and found a nice spot of shade to sit down and eat some lunch. I was tired- we drove back and while Jonna went shopping, she dropped David and I off at the HOA office so we could go for a swim in the pool. The pool was obviously not heated, so David was a good sport and even jumped in once. We cooled off and pruned up nice before going back to Jonna's house to get ready for dinner.
Our hostess made up the loveliest beef stir-fry curry which was hot hot hot while we sipped South African Pinotage. The dog was a very good boy all day- we left him shut out in the yard while we were gone and he was asleep on the stone under the pergola when we got back. What a good boy! After taking about a gram of Motrin each, David and I went to bed early ready to wake up and leave for Zion in the morning. I miss that Collins already.
Tuesday, April 3, 2007: We set out for Zion in the morning surprisingly early- well, because I think we went to bed at 9 and I happened to wake before 7am. I made an omlette breakfast for the group- Jonna is about the only person I can possibly think of who would be able to say "Sure" when I asked "Do you have any goat cheese?" You gotta love that.
The drive to Zion was longer than I anticipated, and we were headed to a KOA 30 miles past Zion toward Bryce and were about 15 miles past the park when David noticed the KOA doesn't open until May 1st. Okay, change of plans. This is a problem. We drove back to the charming-in-a-tiny-way Springdale in search of a hotel and found very little was available, and nothing less than at least 100$ a night- none of which accepted pets. So we happened to see a doggie daycare/boarding place just on 12 at the entrance to Springdale we drove back and dropped the dog off for the night. Fortunately, the rules seemed a bit soft and I didn't have to have his shot record with me (at least I did have the vet's number). And we managed to find a very nice new hotel to sleep in. Since I had hiking on the menu that needed to be done and time was a 'wastin, we set out right away on the bus for the park. You change from the town shuttle service to the park shuttle. No cars are allowed into Zion which greatly reduces emissions and noise, among other things and saves the park and its flora and fauna. It stops at multiple places in the main canyon so we took it all the way to the end, where you hike in about a mile along a super easy path to the narrows, or Zion's slot canyon. We passed groups in waders with hiking sticks coming back en masse from canyoneering excursions and realized the water was far too cold for us to walk in, so we had to stop at the entrance to the narrows. The light was also too low in the sky to take any good pictures. But we did get a little view of the cliffs and the main canyon. We took the shuttle back to the lodge area and went to the Middle and Upper reflective pools on a moderate hike in the woods.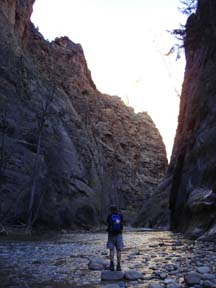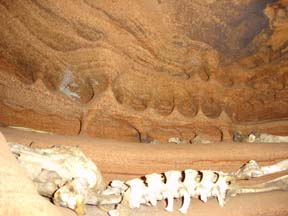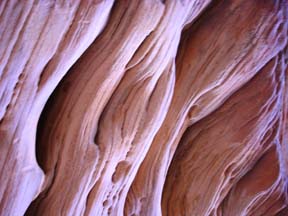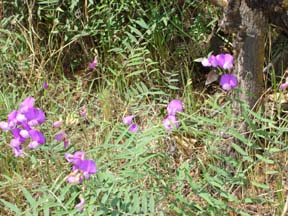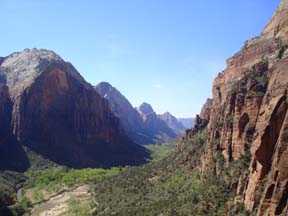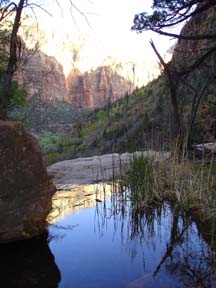 The last picture in that series (with the water and reeds) is the reflecting pool. The one prior to that is a view of the main valley running through Zion, some flowers and bones and sandstone, and David at the Narrows. We retired that night back to the hotel tired and sore from the rock climbing from the previous day. Dinner was at the Pizza and Noodle place- where they served Wasatch beers that have a great sense of humor which can't be all that popular in Utah- our personal fave was the "Polygamy Porter" whose slogan is "Why have just one?" I had a lovely cream-sauce ravioli of portobello mushrooms and I ate the whole plate.